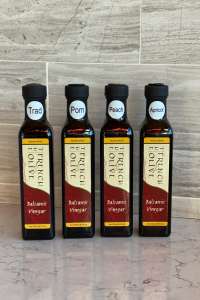 With Bozzano Olive Ranch products no longer available, we are now able to continue to offer our customers the same balsamic vinegars under our own brand. We have added Pomegranate Balsamic Vinegar to our regular line of vinegars.  The dark vinegar base has a rich garnet color and a tangy flavor blended with the sweetness of the pomegranate. Whisk this vinegar with The French Olive oil and serve over salad greens topped with nuts, feta cheese, and onions.
French Truffle olive oil is our newest flavored oil.  Truffle oil makes it ideal for dishes that do not already deliver strong flavors.  As a finishing oil, it is a gourmet addition to soups, pasta, roasted vegetables, eggs and so much more.
Several out-of-stock products are now available – so check out our shop to order.