With all the Mediterranean flavors of olives, tomatoes, cucumbers, avocados and chicken, this salad is a complete meal in a bowl. Making one dressing/marinade for two uses, this recipe is easy, fast, and refreshing for the hot summer days ahead.
Marinade/dressing
4 Tablespoon Olive Oil
1/4c. freshly squeezed lemon juice
2 Tablespoon red or white wine vinegar
2 teaspoons dried basil
2 teaspoons fresh garlic, minced
1 teaspoon dried oregano
1 teaspoon salt
Cracked pepper, to taste
2 – skinless, boneless, chicken breasts
Salad
4 cups Romaine lettuce, washed and dried
1 large cucumber, diced
2 tomatoes, diced
2 scallions, chopped
1 avocado, sliced or diced
1/3 cup Kalamata or olives of choice, halved
Lemon wedges to serve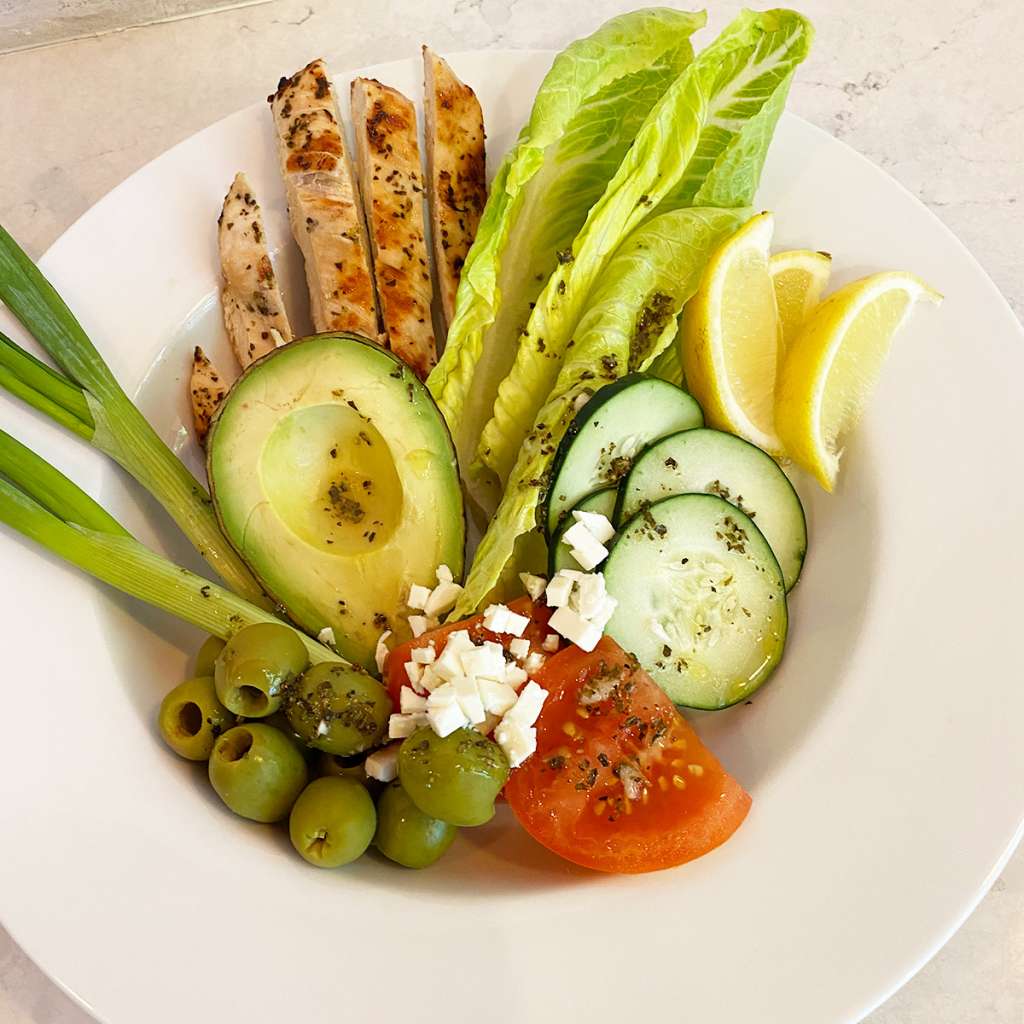 Instructions 
Whisk together all the marinade/dressing ingredients in a pint jar.  Pour out 1/2 into a large shallow dish.  Refrigerate the remaining liquid to use as the dressing later.
Add the chicken to the marinade in the dish for 30 minutes-up to 2 hours in the refrigerator.
Meanwhile, prepare the salad ingredients and mix in a large serving bowl.
Once the chicken is ready, grill on both sides until browned and completely cooked.
Rest the chicken about 5 minutes; then slice or dice and arrange over the salad.  Drizzle the salad with the saved dressing ONLY.
Top with 1/2c. crumbled Feta cheese if desired.  Toss and serve with the lemon wedges.